Fils de Plouc
Mother Schmuckers
Regie: Harpo & Lenny Guit
Belgien
Nachtschiene | fOmeU (Französisch) | 2021 | 70 min | im Wettbewerb | Limitiertes Kontingent
Dieser Film läuft ausschließlich im Online-Festival.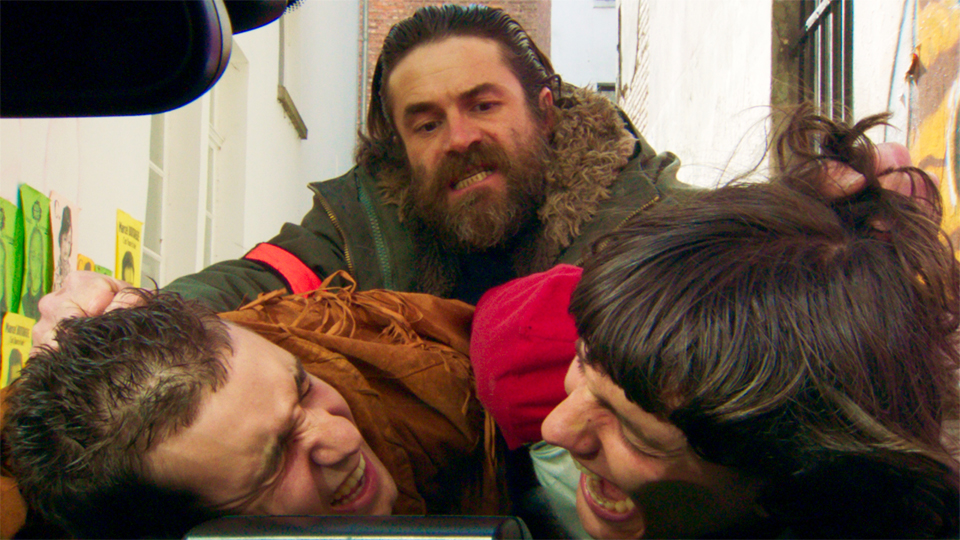 Zum Trailer

Inhalt

Brüssel: Issachar und Zabulon, zwei Brüder in den Zwanzigern mit einer Vorliebe für Dummheit und Ärger, sind chronisch pleite und leben mit ihrer Mutter Cachemire in einem heruntergekommenen Brüsseler Wohnkomplex. Als sie den geliebten Hund ihrer Mutter, January-Jack, verlieren, stellt sie ihnen ein Ultimatum: Entweder sie finden ihn innerhalb von 24 Stunden oder sie werden aus dem Haus geschmissen. "Fils de Plouc" ist ein urkomisches Abenteuer im zeitgenössischen Brüssel mit Auftritten der französischen Schauspieler Mathieu Amalric ("The French Dispatch", "Sound of Metal") und Claire Bodson ("Young Ahmed"). Die beiden Brüder treffen auf eine Reihe von exzentrischen Charakteren und sind nie weit vom nächsten Ärger entfernt.
Storyline

Brussels, today. Issachar and Zabulon, two broke twenty-something brothers with a knack for stupidity and trouble, live in a low-income housing complex in Brussels with their mother Cachemire. When they lose their mother's beloved dog, January-Jack, she gives them an ultimatum - find him in 24 hours or get kicked out of the house. A hilarious adventure through contemporary Brussels, MOTHER SCHMUCKERS features appearances by French actor Mathieu Amalric (THE FRENCH DISPATCH, SOUND OF METAL) and Claire Bodson (YOUNG AHMED). As the two brothers encounter a cast of eccentric characters, they're never too far from trouble.
Über den Film
Mother Schmuckers is surprising, of course. This insolent and explosive feature debut, overflowing with irreverent energy and with a real taste for provocation, represents a cinema with a true punk and DIY spirit, where each scene challenges what came before it in terms of provocation and bad taste. Knowing that the film opens with a delirious scene of coprophagia should give a tasty idea of what comes next.
Aurore Engelen, www.cineuropa.org
The playful and youthful style of the film goes hand in hand with this, it tries to be dynamic using handheld camera –even from the dog's perspective– and with some details in its editing. Issachar and Zebulon's best friend, Choukri (Habib Ben Tanfous), is an amateur magician and filmmaker who always carries a video camera –which ends up joining the various points of view of the film– and usually takes advantage if something striking happens in the street to steal shots in the purest style of guerilla filmmaking (his completed "film" is the post-credits joke). Mother Schmuckers shares that spirit, it doesn't have an amateur look but I could bet that the Guits evaded the filming permits, the looks of passers-by at their characters' idiocies give them away.
Eric Ortiz Garcia, www.screenanarchy.com
A shot of John Waters recklessness to a national cinema that has rarely behaved this badly since Man Bites Dog.
Guy Lodge, www.variety.com
Als das pure Chaos könnte man den ersten Langspielfilm der Brüder Lenny und Harpo Guit bezeichnen. Sie ziehen alle Register des Trashfilms, ohne die Grenze zur Geschmacklosigkeit zu überschreiten - weitgehend zumindest. Mutig, unterhaltsam und durchaus stilsicher haben die beiden ihre absurde schwarze Komödie inszeniert, die an franko-belgische Vorbilder wie Bouli Lanners oder Benoît Delépine/Gustave Kervern erinnert.
outnow.ch
Preise
2021 Preis für die innovativste Regiearbeit Bilbao Fantasy Film Festival
2021 Prix Michael Kael Festival International du Film Grolandais de Toulouse
2021 Bester Film (Hauptjury) Vevey International Funny Film Festival
2021 Bester Film (Jugendjury) Vevey International Funny Film Festival
| | |
| --- | --- |
| Regie | Harpo & Lenny Guit |
| Drehbuch | Harpo Guit, Lenny Guit |
| Kamera | Sylvestre Vannoorenberghe |
| Schnitt | Guillaume Lion, Naftule Tarraschuk |
| Ton | Virgile Jans |
| Produzent | David Borgeaud, Erika Meda |
| Darsteller | Maxi Delmelle (Issachar) Harpo Guit (Zabulon) Claire Bodson (Cachemire) Habib Ben Tanfous (Choukri) Chaida Chaddy Suku Suku (Violeta) Toni d'Antonio (Daniel) Yannick Renier (Anthony the policeman) Mathieu Amalric (The Father) |