Catch the Fair One

Regie: Josef Kubota Wladyka
USA
Nachtschiene | eOF (Englisch) | 2021 | 85 min | im Wettbewerb

Vorstellung im Kino
215 - Fr, 23:15, im Kino 1 Kinokarten kaufen

Dieser Film läuft ausschließlich im Kino.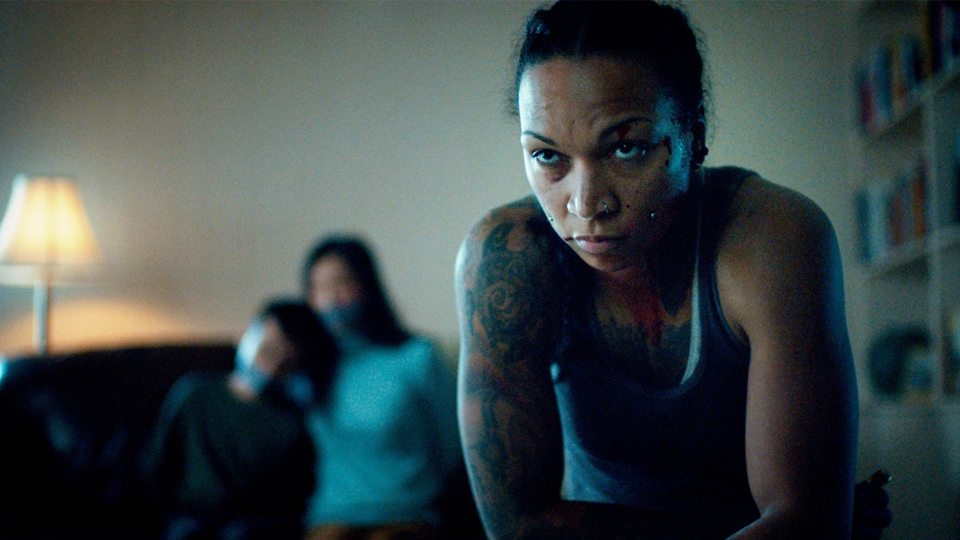 Zum Trailer

Inhalt

Die jüngere Schwester der ehemaligen Boxmeisterin Kaylee wird vermisst. Sie wurde entführt, als sie alleine aus dem Boxstudio, in dem Kaylee trainierte, nach Hause ging. Die Polizei scheint die Suche nach ihr eingestellt zu haben, aber Kaylee hat die Hoffnung noch nicht aufgegeben. Sie erhält einen Hinweis zu einer Person, die an der Entführung beteiligt gewesen sein könnte. Diese Person ist Teil eines Menschenhändlerrings. Um dem Verschwinden ihrer Schwester auf den Grund zu gehen und sich an den Verantwortlichen zu rächen, lässt sich Kaylee von den Menschenhändlern entführen. Damit beginnt der Kampf ihres Lebens.
Storyline

In this absorbing revenge thriller executive produced by Darren Aronofsky, a Native American woman embarks on the fight of her life when she goes in search of her missing sister. The former boxer intentionally gets entangled in a human trafficking operation in order to retrace the steps of her kid sister and work her way up the chain of command to find the man responsible.
Über den Film
"Catch the Fair One" debuted at the 2021 Tribeca Film Festival, where it received warm reviews and captured the Audience Award and a Special Jury mention for Reis' performance. It was a role that Reis helped develop in conjunction with Wladyka, who wrote the screenplay based on a story she created. And it's also a film that drew on her experiences as the first Indigenous fighter to win the International Boxing Association middleweight crown and the reigning WBA Super lightweight champion.
Brent Lang, www.variety.com
Reis, who, like her character Kaylee, goes by the fight name 'K.O.', is of mixed Native American and Cape Verdean descent and is an active supporter of the Missing and Murdered Indigenous Women and Girls (MMWIG) movement. But her involvement in this picture goes beyond an awareness-raising exercise. She's a magnetic, physically commanding presence who comes into her own when she is pounding justice into one of the rodent-faced men who make a living from trafficking young women into prostitution.
Wendy Ide, www.screendaily.com
The film is certainly not inclined to sugarcoat the reality of sex trafficking and its effects on Indigenous women, who are startlingly kidnapped at increasingly high rates. Catch the Fair One packs an emotional and physical punch and doesn't hold back. Poignant and raw, the film is effective in all the ways it should be.
Mae Abdulbaki, www.screenrant.com
Preise
2021 Publikumspreis Bester Film Tribeca Film festival
2021 Publikumspreis Bester Film Sidewalk Film Festival
2021 Beste Schauspielerin (Kali Reis) Newport Beach Film Festival
| | |
| --- | --- |
| Regie | Josef Kubota Wladyka |
| Drehbuch | Josef Kubota Wladyka |
| Kamera | Ross Giardina |
| Schnitt | Benjamin Rodriguez Jr. |
| Ton | David Forshee |
| Musik | Nathan Halpern |
| Produzent | Mollye Asher, Kimberly Parker, Josef Kubota Wladyka |
| Darsteller | Kali Reis (Kaylee) Daniel Henshall (Bobby) Tiffany Chu (Linda) Michael Drayer (Danny) Kimberly Guerrero (Jaya) Lisa Emery (Debra) Kevin Dunn (Willie) Jonathan Kowalsky (Stan) Isabelle Chester (Lisa) Gerald Webb (Gary) |