Róise & Frank

Regie: Peter Moriarty, Rachael Moriarty
Irland
Spielfilm | OmdU (Irisch) | 2023 | 90 min | im Wettbewerb
Vorstellungen im Kino

143
- Do, 21:00, im Siebold-Museum
ausverkauft
345
- Sa, 19:00, im Siebold-Museum
ausverkauft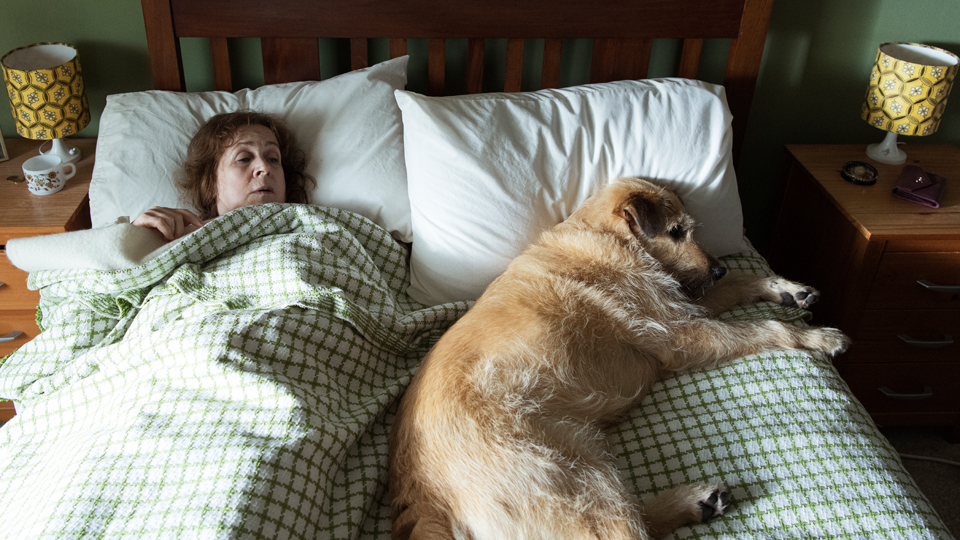 Zum Trailer

Inhalt

Es ist zwei Jahre her, dass Róise die Liebe ihres Lebens verloren hat, ihren Mann Frank. Jetzt ist sie isoliert in ihrer Trauer, abgeschnitten von Familie und Gemeinschaft. Da kommt ein geheimnisvoller Hund in Róises Leben, der scheinbar darauf aus ist, eine Bindung mit ihr einzugehen. Das ist eine große Veränderung - fragt sich nur, ob zum Besseren. Der Hund liebt Sport und Steaks, hat einen Lieblingssessel und eine Abneigung gegen den Nachbarn Donncha. Róise erkennt in dem Hund schnell die Reinkarnation ihres geliebten Frank. Während sich ihr Sohn sorgt, dass seine Mutter den Verstand verloren hat, scheinen die Leute in der Umgebung die Idee von Franks Wiederkunft bereitwillig anzunehmen, besonders als er einen schüchternen Jungen dahingehend trainiert, dass dieser ein Star-Spieler wird und dem Schulteam Erfolg garantiert. Róise ist wieder glücklich, aber gibt es für sie eine wirkliche Zukunft, mit einem Hund als Ehemann?
Storyline

It is two years since Róise lost the love of her life, her husband Frank. She is now isolated in grief, cut off from family and community. The arrival of a mysterious dog, which seems intent on connecting with Róise, heralds huge change but is it for the better? The dog loves sport and steaks, has a favourite armchair and an aversion to their neighbour, Donncha. Róise quickly realises that this dog is her beloved Frank, reincarnated. While her son worries that his mother has lost her mind, the local community seems to embrace the idea of Frank's return, especially as he coaches a shy local kid to become a star player and ensure success for the school team. Róise is happy once more but is there a real future for her with a dog-husband?
Über den Film
ABOUT THE DIRECTORS: RÓISE & FRANK was directed by Rachael Moriarty and Peter Murphy Rachael Moriarty and Peter Murphy formed a creative partnership in college in 1990. After 5 successful short films they made their feature debut in 2015. TRADERS is a darkly comic take on the lengths people go to survive in a post Celtic Tiger Ireland. Starring Killian Scott (Dublin Murders, '71) and John Bradley (Game of Thrones), the film was described by The Guardian's Peter Bradshaw as "an ingenious and macabre debut." TRADERS was released in Irish cinemas and was acquired by HBO for Cinemax in the US. It was part of BBC THREE's alternative Christmas schedule in 2016. TRADERS won The Audience Award at the Belfast Film Festival and The Orbit Award at the Brussels Fantasic Film Festival. Their second film, RÓISE & FRANK, shows their desire to find lightness in the darker areas of the human experience, but with a resolutely positive approach. Their aim was to make a film about grief and what some consider "excessive grief". They both personally knew people who had talked about "visits" from birds or other animals after the death of a loved one and that was the kernel that inspired this film. What if they weren't fleeting visits? What if someone really came back? What then? Róise says it in the film – "none of us know what happens after we die." Grief is universal but how we deal with it is individual, and this story is about a dog who helps a woman process her grief and embrace life again.
Roise & Frank
Preise
2022 2022 AUDIENCE AWARD; INNER of the Santa Barbara International Film Festival
2022 BEST FEATURE FILM, BEST DIRECTOR and BEST ACTRESS at the Stockholm City Film Festival
| | |
| --- | --- |
| Regie | Peter Moriarty, Rachael Moriarty |
| Drehbuch | Director/Writer: Rachael Moriarty Director/Writer: Peter Murphy |
| Kamera | Director of Photography: Peter Robertson |
| Schnitt | Editors: Colin Campbell, Mary Crumlish |
| Ton | Fiachra O'Hanlon |
| Musik | Colm Mac Con Iomaire |
| Produzent | Cúán Mac Conghail |
| Darsteller | Róise: BRÍD NÍ NEACHTAIN Alan: CILLIAN Ó GAIRBHÍ Donncha: LORCAN CRANITCH Maidhcí: RUADHÁN DE FAOITE Frank Madra: BARLEY Anna: MICHELLE BEAMISH Sinéad: CLAIRE O'CONNOR Jack: CORMAC HENNESSY Conor: SEÁN MAC GEARAILT |